Find Balance With Ayurveda
Contact
T: +41 (0)78 910 08 34
relax@ayubliss.ch
Hours
Tue to Sat: 9:00am — 7:00pm
Sunday: closed
Location
Chemin des Artisans 4
1263 Crassier
Suisse
Contact
T: +41 (0)78 910 08 34
relax@ayubliss.ch
Hours
Tue to Sat: 9:00am — 7:00pm
Sunday: closed
Location
Chemin des Artisans 4
1263 Crassier
Suisse
The Ayurvedic philosophy is based on the idea that each individual is unique and should be treated as such. We believe that health is a dynamic state of balance between the body, mind, and environment.
Using holistic treatments, natural products, and Ayurvedic healing techniques, we work with you to restore the natural balance of your body and mind, and to help you achieve optimal well-being.
We are passionate about Ayurveda and committed to helping our patients discover the path to natural healing and full health.
Gift Cards
Our gift cards are the perfect way to give your loved ones the gift of relaxation and well-being. Choose from a variety of therapeutic treatments, holistic detox programs, and yoga and meditation classes to help your loved ones achieve optimal wellness.
Our gift cards are available in multiple amounts and can be customized to meet the specific needs of your loved ones. Give the gift of natural healing and relaxation with our gift cards.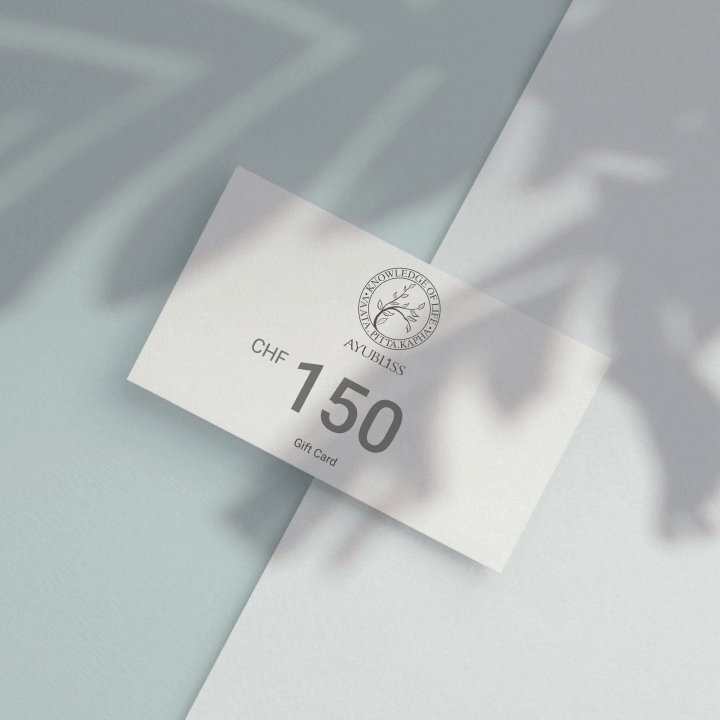 Gift Box
Welcome to our collection of gift boxes! Our gift boxes are carefully selected to offer a varied choice of Ayurvedic wellness products that meet all your needs.
Each box contains a range of natural products, such as massage oils, plant powders, herbal teas, and spice blends, to help balance the natural energies of your body and support your health and well-being.
Customer Testimonials
"It all started 5 years ago when I badly needed to reconnect with myself. I found Dr. Sangeeta and since then Ayurveda is part of my life. Care and advice have helped me a lot and are good for me. This medicine and Dr. Sangeeta give me positive energy. I am very grateful for all this good that I can only advise."
Jasmine
"I have had few different treatments with Dr. Renard and all of them had been excellent. Her prenatal and post natal massages did really help me with specific pregnancy condition.
Very professional approach, all natural treatments and excellent massages. Also I highly recommend colon cleanse.Looking forward to my next appointment."
Bozena
Thank you very much Sangeeta and your team for the quality of the care, for your presence and your listening. Since the time I was looking for a quality ayurvedic doctor in French-speaking Switzerland and I found you, finally! I even talked about you to my acupuncturist doctor. I am your advice with joy and I look forward to continuing my care with you."
Aurélie M.
"I warmly thank Dr. Sangeeta for her effective and generous application of Ayurveda against my problems of insomnia and other forms of stress. Ms. Sangeeta knew how to treat me (surprisingly quickly) and give me very good advice."
Simone
Contact
T: +41 (0)78 910 08 34
relax@ayubliss.ch
Hours
Tue to Sat: 9:00am — 7:00pm
Sunday: closed
Location
Chemin des Artisans 4
1263 Crassier
Suisse